Lucky Ghost: The Best African-American Horror Movie of All Time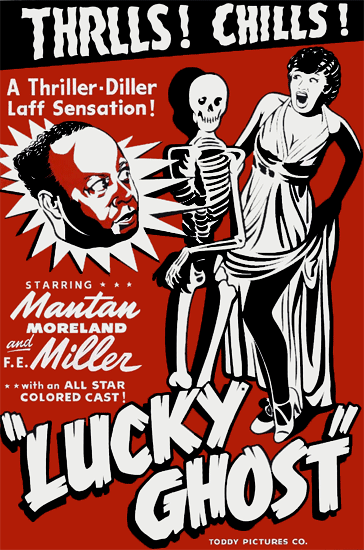 Lucky Ghost: The Best African-American Horror Movie of All Time
Have you ever seen a ghost play craps in a casino? That would be creepy, and that's exactly how the 1942 film Lucky Ghost wanted you to feel when it was shown in theaters. William Beaudine's Lucky Ghost is said to be the greatest African-American horror (comedy) movie of all time. This film gave African-American artists a huge recognition in the film industry.
Lucky Ghost is described as a race production, meaning it was made with a limited budget and featured an all African-American cast. The film, which is a sequel to the 1941 film Mr. Washington Goes to Town, is about two men who won a house and a lot after playing craps in a freaky-looking casino. They're both unaware that the gaming house they played in and the house that they won were both owned by a dead couple whose souls were disturbed because their properties were turned into a dirty casino. The film stars Mantan Moreland, one of the biggest comedians during the 1930s and 1940s.
The themes of horror and casino are such a compelling combination. On the web, you will find online gaming sites that offer casino games which use scary characters as the main theme—one of these is Telltale Games' Poker Night 2. This lets gamers play poker using famous video game characters who trash-talk each other during the course of the game. You'll also hear hilarious and witty banter from the characters involved. Another example is partycasino, which also uses famous horror characters during Halloween. It's quite obvious that the collaboration of horror and casino games attract a lot of people, since both have a huge following.
This classic piece may be too old for your taste, but it definitely has all the elements of a complete film. There are many casino films made since Lucky Ghost was shown. However, none of them was able to offer the kind of entertainment that William Beaudine's piece gave to people. Most of these casino films focus on just one genre, and are just too plain with their sole themes. For instance, the romantic casino film Leaving Las Vegas made movie-goers fall in love from the start to finish. The action film by Columbia Pictures, Casino Royale, kept viewers on the edge of their seats with every well-choreographed stunt. However, these examples are single-faceted. They are not like Lucky Ghosts which was able to offer laughter, action, suspense, and horror all at the same time.