Black Future Month: Thu Feb 16, Naked Reality, Afrofuturism by Jean Pierre Bekolo Sneak Preview
by
SNEAK PREVIEW: Thurs, Feb 16, 7 pm
SMG Chatham, 210 W 87th St
FREE PARKING
NAKED REALITY is a new science-fiction interactive and collaborative cinema concept where we make feature films with a story as usual but take out certain aspects like sets, music, dialogues, costumes… and other artists, filmmakers, writers are invited to join the filling process of the missing elements, creating a body of work around the film. Making a Naked Reality film is about creating a film that will be used as a raw material for artists to interact in a collaborative way.Naked Reality Cinema is the cinema of the future.
The notion of the Black Radical Imagination stemmed from a series of discussions around the boundaries and limitations that are historically given to people of color in the realm of the cinematic.
Shown with: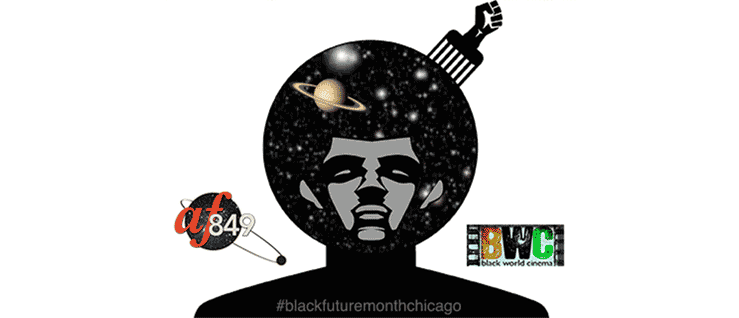 BLACK RADICAL IMAGINATION
Black Radical Imagination is a touring program of visual shorts that delve into the worlds of new media, video art, and experimental narrative. Focusing on new stories within the diaspora, each artist contributes their own vision about post-modern society through the state of current black culture. Black Radical Imagination focuses on the aesthetics of Afro-futurism, Afro-surrealism, and the magnificent through the context of cinema.
Erin Christovale is a curator based in Los Angeles focusing on film/video within the African Diaspora. She graduated with a B.A. from the USC School of Cinematic Arts and is the curator at Los Angeles Municipal Art Gallery.
Amir George is a motion picture artist and film programmer born and bred in Chicago. Amir creates work for the cinema, installation, and live performance. His motion picture work and curated programs have been screened in festivals and galleries nationally and internationally. Amir is the founder of Cinema Culture, a grassroots film programming organization. He is currently manifesting his latest short film Decadent Asylum.