January 5, 7pm, NAT TURNER: A Troublesome Property, a film by Charles Burnett
by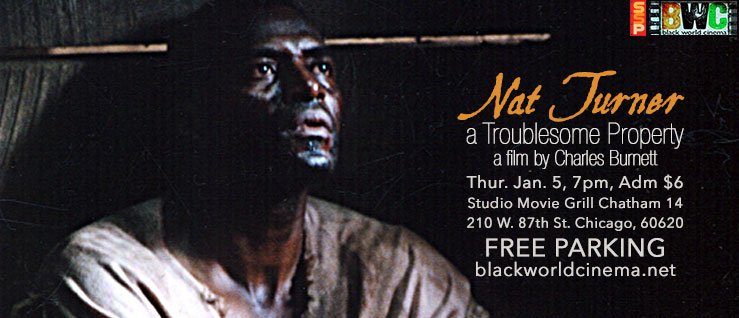 January 5, 7pm, Adm: $6
Black World Cinema and South Side Projections present
Nat Turner: A Troublesome Property, 2003, USA, 58min
Discussion with Prof. Robert Starks and Activist Anton Seals Jr.
Show with a short film to TBA
SMG Chatham 14
210 W 87th St
FREE PARKING
Black World Cinema continues the conversation on the story and faceted legacy of Nat Turner, one of the most controversial figures in American history, by examining a docu-drama by the esteemed director Charles Burnett. Join us for the film and  spirited post-screening discussion on readings of history, resistance and the nature of violence.
NAT TURNER: A Troublesome Property examines how the story of Turner and his revolt have been continuously re-told since 1831. Historians Eugene Genovese and Herbert Aptheker discuss how the figure of Turner became a metaphor for racial tension. Religious scholar Vincent Harding and legal scholar Martha Minow reflect on America's attitudes towards violence. Professor of psychiatry and race relations expert Dr. Alvin Poussaint and actor Ossie Davis recall how Nat Turner became a hero in the black community. And when William Styron published his 1967 Pulitzer Prize-winning novel, The Confessions of Nat Turner—inventing a sexually charged relationship between Turner and a white teenaged girl he later killed—it unleashed one of the most bitter intellectual battles of the 1960s. Turner's rebellion continues to raise new questions about the nature of terrorism and other forms of violent resistance to oppression.
A unique collaboration between MacArthur Genius Award feature director Charles Burnett, acclaimed historian of slavery Kenneth S. Greenberg and Academy Award-nominated documentary producer Frank Christopher, NAT TURNER adopts an innovative structure by interspersing documentary footage and interviews with dramatizations of different versions of the story, using a new actor to represent Turner in each. The filmmakers have interviewed a broad range of contemporary African American and white descendants of those involved in the revolt, historians, writers and artists, and weave these interviews with dramatic recreations based on folklore, novels and plays—reflecting the multifaceted legacy of Nat Turner in America today.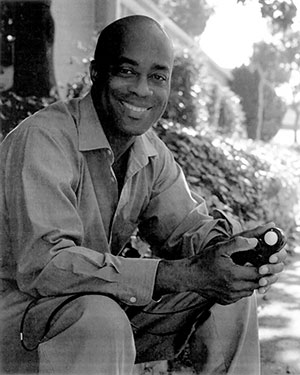 Film critics have called Burnett "the nation's least-known great director." Burnett's debut film, Killer of Sheep, on which he served as producer, director, writer, editor, cinematographer and actor, was selected by the Library of Congress to be among the first 50 films to be included in the National Film Registry. In 1983, the Vicksburg, Mississippi native wrote, directed and produced his next feature, My Brother's Wedding, centering on the theme of envy and its power to warp families. Burnett's themes of family continued to influence his work: In 1990, he wrote and directed the drama To Sleep with Anger, which starred Danny Glover as a charming friend who insinuates himself into a troubled family. Burnett's next film, The Glass Shield, was a police drama based on a true story of corruption and racism within the Los Angeles police force. Burnett followed with his television debut via the acclaimed 1996 Disney Channel film Nightjohn, a period piece about a slave's risky attempt to teach an orphan slave girl to read and write. The New Yorker's film critic Terrence Rafferty called Nightjohn the "best American movie of 1996."
Speakers:
Robert T Starks
Educator, political consultant and activist professor, Robert Terry Starks was born on January 24, 1944 in Grenada, Mississippi. He earned his B.S. degree from Chicago's Loyola University in 1968. He earned his M.A. degree in political science also from Loyola in 1971. In 1968, Starks served as a management consultant for Booze Allen Hamilton and a research specialist for the Chicago Urban League. From 1970 to 1972, Starks served as Director of Black Studies at Northern Illinois University and associate professor of political science. He joined the faculty of Northeastern Illinois University's Center for Inner City Studies (NEIU CICS) in 1976 where he is associate professor of political science.
Starks served as an issues advisor to Reverend Jesse L. Jackson and political advisor to the late Chicago mayor, Harold Washington. He was the founding chair of the Task Force for Black Political Empowerment and has been the local chair of the Free South Africa Movement. In 2001, Starks founded the Harold Washington Institute for Research and Policy Studies at NEIU CICS. Since 1991, Starks has contributed a weekly column to N'Digo news magazine and hosted a show on WVON Radio in the early 1990s. He also was a contributing editor to Urban Affairs Quarterly.
Anton Seals, Jr
L. Anton Seals Jr. is a leader of the new school, fighting for voices that are often relegated to the sidelines of change. He is dedicated to service and active engagement through the use of media arts and community organizing and economic empowerment. Anton started Seals360group a consulting group focusing on audience/community engagement, advocacy/policy and social enterprise development.
Anton has worked in a myriad of organizations  advocating for access and equity issues impacting communities of color. Anton is a graduate of the film department at Columbia College and the School for New Learning at DePaul University, where he studied social enterprises and public policy models that impact maligned communities of color.
Anton's primary focus is in community and coalition building, local food system development, impact producing documentary campaigns and educational opportunities. Anton is also one of the founders of the Revival Arts Collective, a group of Chicago artists committed to using arts and culture as a catalyst for community redevelopment.